In this critical time in human history, beautiful solutions are taking root and growing all around the globe. 


Restoring Ligongo Hill is one such solution.
Using a combination of native reforestation, agroforestry and silviculture practices, this campaign will propagate and plant 4,000 native and fruit trees.
Simply by purchasing a tree, you are investing in a project that empowers women, employs local people to propagate and plant native/fruit trees, regenerates the degraded slopes of Rusinga Island and inspires the next generation to steward the slopes of Lingongo Hill, providing stability, literally from the soil up!
Made Possible through Partnership between Books for Trees, Badilshisha Permaculture Center, Gone West and you!
Rusinga Island lies just off the eastern part of Lake Victoria, in Homabay county, Kenya. As in many parts of post-colonial Kenya, this region has suffered from acute deforestation and land degradation. By regenerating the land and restoring soil integrity/water retention, Books for Trees and Badilisha Permaculture Center are restoring local peoples' ability to live, work and thrive in their native homeland.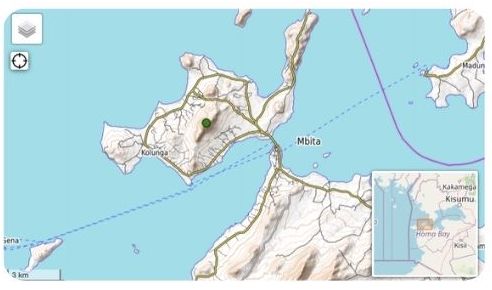 In the advent of increased deforestation, increasingly frequent mudslides and the impending pressures of climate adaptation, the need for this campaign to restore the degraded slopes of Rusinga Island is more prevalent than ever.
3,000 SEEDS and 1,000 SAPLINGS ...
3,000 trees (both native and fruit trees) will be propagated from seed and 1,000 saplings sourced from local nurseries. The project will employ local people from the Badilisha Permaculture Center to propagate native saplings in their nursery on Rusinga Island, Kenya. Planting will commence during the planting season, March-June 2021. The project aims to plant 4,000 trees in total.
... 4,000 TREES PLANTED...
These trees will be planted primarily to restore a basic resource need to the local people via the regeneration of native forests by using agroforestry and silviculture to help support the local economy. 
...ERECTING 120 CHECK DAMS...
120  "check dams" will be constructed on the degraded slopes to improve water retention/penetration, prevent the loss of soil through erosion, and stabilize the slopes. This meaningful work will be completed by women from a local women's groups.
...EMPOWERMENT OF WOMEN  IN THE LOCAL COMMUNITY!

In order to fulfill their vision of supporting local education, Books for Trees will also engage their local network to offer three environmental stewardship workshops during the timeframe of the project, as well as continuing to support three primary schools in Homabay County.