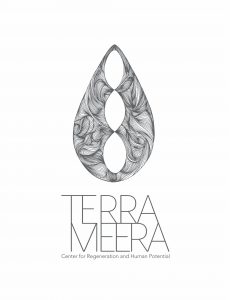 Terra Meera is a newly founded Centre for Regeneration and Human Potential, based in Croatia.
Located in a little abandoned valley, it is laying the foundations for a community project of local and regenerative agriculture in the area.
The project will plant a native fruit forest, revitalise the land, support local economy and create a source of food and educational opportunities for local and international communities.
As such, Terra Meera is about giving a fresh breath of life to the land as well as the community and culture.
The Bribir region that surrounds Terra Meera used to be thriving, with small-scale farmers and traditional agriculture that fed many communities in Central Dalmatia. But the civil war in 1990s changed it all. Majority of population fled the area, abandoning cultured land and leaving it out of balance. After 20 years of neglect, the land needs human care for ecosystems to thrive again. Moreover, the mass tourism in the nearby coastal area has attracted consumer lifestyles for which our food now mostly comes from the imports (70% of all food needs in Croatia).
The solution is clear, cost-effective, and sustainable: Trees. Instead of clearing fields, intensifying mono-crop production, and ultimately degrading the land, agriculture focused on the power of trees (agroforestry) strives to protect the soil, diversify crops, and optimize the land in a sustainable way.
As the first stage in the regeneration process of this neglected soil and her forgotten plants and seeds, we are aiming to plant an indigenous fruit forest of almost 300 trees.
60 endangered species saved

Education opportunities formed
Seedbank creation supported
21 local filming jobs created

Local community supported